Hier finden sie die deutsche Version
Lawsuit against the Republic of Austria has been filed in New York. Will the Albertina and the Leopoldmuseum follow the example of the American museums and voluntarily restitute 12 paintings?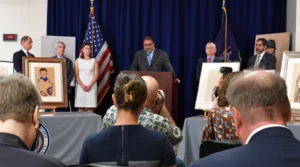 Vienna/New York (OTS) – Seven important works of art by Egon Schiele were ceremoniously handed over to the heirs of Viennese cabaret artist Fritz Grünbaum on Wednesday afternoon. The Manhattan District Attorney's Office calls the act a crucial milestone in one of the longest-running Holocaust restitution cases in the art world.
The ceremony to return the artworks to the heirs of Fritz Grünbaum, who was murdered in the Dachau concentration camp in 1941, took place in the office of Manhattan District Attorney Alvin L. Bragg, in whose jurisdiction the case lies.
"This is of enormous importance in our world," stressed Timothy Reif, one of the Grünbaum heirs, referring to the descendants of Holocaust victims who have been demanding the return of looted property for nearly 80 years. "It sets the tone and agenda for all future cases. For more than a quarter of a century, the Grünbaum heirs have been fighting for the return of various Schiele works. These demands, which have led to civil suits in the courts, are closely followed in the art world."
The Manhattan District Attorney's Office took up the case in December 2022 after a New York civil court ruled in 2018 that Fritz Grünbaum had not sold or returned any of his works before his death, meaning his heirs were the legitimate owners. Prosecutors were able to present evidence that the seven works had passed through the hands of a Manhattan dealer, claiming legal jurisdiction. This time, however, was different: several museums and collectors contacted by prosecutors agreed to return the Schiele works to the heirs after being told they had stolen property.
The seven works voluntarily returned were owned by three museums – the Museum of Modern Art (MOMA), the Morgan Library & Museum, both in New York, and the Santa Barbara Museum of Art in California – as well as two collectors, Ronald S. Lauder, president of the World Jewish Congress and a longtime advocate of Holocaust restitution, and the estate of Serge Sabarsky, a well-known art collector. An eighth work from Sabarsky's estate was previously returned to his heirs.
"Fritz Grünbaum was a man of incredible depth and spirit, and his memory lives on through the artwork that is finally being returned to his relatives," Bragg said in a statement. "I hope this moment can serve as a reminder that despite the horrific death and destruction at the hands of the Nazis, it's never too late to recover some of what was lost."
This has also brought the issue of the paintings from the Grünbaum Collection held by the Austrian museums Albertina and Leopold Collection back to the center of restitution policy.
The heirs of Fritz Grünbaum have brought suit in the Southern District Court in New York against the Leopold Museum, the Albertina, and their legal or de facto owner, the Republic of Austria, for a declaration of ownership and restitution of the following works by Egon Schiele:
1. Dead city III (1911) (P.213)
2. Self-portrait with grimace (1910) (D.705)
3. Standing man with red scarf (1913) (D.1420)
4. Red blouse (1913) (D.1394)
5. Embracing nudes (1914) (D.1606)
6. Intertwined nudes (1912) (D.1147)
7. Seated girl with yellow cloth (1913) (D.1278)
8. Devotion (1912) (D.1418)
9. Standing girl with orange stockings (1914) (D.1488)
10. Self-portrait as penitent (1911) (D.942)
11. Aunt and nephew (1915) (D.1797)
12. Seated female nude on red cloth (1914) (D.1504)
The Austrian representative of the heirs after Fritz Grünbaum, Herbert Gruber, comments:
"It is astonishing in this context that none of the defendants' representatives contacted the representatives of the heirs of Fritz Grünbaum in any form to find an out-of-court solution. The Republic of Austria hired one of the most expensive lawyers in New York with an hourly fee of USD 2000 in any case, and this despite the disastrous results in looted art cases such as Klimt's "Portrait of Adele Bloch-Bauer I", also called "Golden Adele"."
---
Enquiries:
Austrian legal representative of the heirs after Fritz Grünbaum:
Mag. Michael Pilz
Telephone: +43 (0)1 406 05 51
Email: michael.pilz@jus.at
American legal representative of the heirs of Fritz Grünbaum:
Raymond J. Dowd
Phone: +1 212 682 8811
Email: rdowd@dunnington.com